Premier Daniel Andrews says the Victorian government is currently trialling its QR code system, and will have more to say on it very soon.



"We're getting close to a fairly detailed IT discussion but as I understand it with some very small modifications to code. We can have a situation where all of those products can speak to our CRM in the end to end fashion. The other thing to remember is and perhaps I should have mentioned this in Lundy's question, there are many venues using the QR code not just to identify who was in the building but to order, to do all sorts of things that mean there is less movement, this contact between different people. That is a really good thing and we would not want to upset that."
Anecdotally every business in Melbourne I've been to since lockdown ended has had some form of its own QR code system.
More rule changes in Victoria:
Hospitality can have up to 300 patrons, but a maximum of 100 indoors (so 200 outdoors)
Gyms can have up to 150 people, with one person per four square metres.
Indoor sports and gym groups can have up to 20 people, with one person per four square metres.
Indoor pools can host 150 people, outdoor pools can host 300 people.
Holiday accomodation can have up to 15 people in the one household.
Religious ceremonies can have 150 people indoors, and 300 outdoors.
Weddings and funerals can have 150 people indoors and outdoors.
Cinemas and small galleries can open up to 150 people per space, with larger facilities able to use 25% of their space.
Community venues up to 150 people indoor, and 300 outdoor.
Gaming venues up to 150 people, but every second gaming machine will be turned off.
Premier Daniel Andrews says he will make further announcements on 6 December.
Updated

Andrews says masks will still have a big role:



This thing spreads rapidly. Common sense is very important. Carry the mask, because you never know, even outside, when you might need to wear it. Masks have played a very important part in these low numbers, and we just have to see this through and part of playing your part is wearing a mask, absolutely when you are inside, so that you are not spreading this virus unbeknownst to you.
Updated

Victorian restrictions to ease
Victorian premier Daniel Andrews has announced the further easing of restrictions.
From 11.59 tonight:
15 visitors, including dependents, in your home each day
Outdoor gatherings increased to 50 people
Masks will be required inside in all settings; they will not be required outside, but people will need to carry masks and wear if they can't distance.
From 30 November:
25% of staff will be able to be in offices.
The new rules from 13 December:
30 visitors in a home each day.
Updated

In the United States, the Texas national guard has sent a 36-member team to El Paso to assist morgues in the border region with the number of dead as a result of Covid, AP reports.
Statewide, the Texas health department reported on Saturday a one-day high of 12,597 new virus cases, nearly 20,500 dead since the pandemic began and more than 8,200 virus hospitalisations.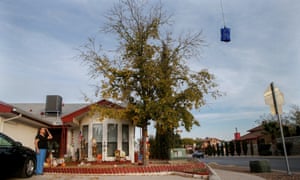 "The Texas military will provide us with the critical personnel to carry out our fatality management plan and we are very grateful to them for their ongoing support," El Paso mayor Dee Margo said on Friday when the deployment was announced.
The pandemic is blamed for 853 deaths in El Paso county, including more than 300 since October. Prisoners are being paid to move bodies and county leaders are offering $27 an hour for morgue workers.
County judge Ricardo Samaniego, in a letter to governor Greg Abbott asking for support for a 10pm-5am curfew in the county, said mortuaries were being overwhelmed. He wrote that the local medical examiner's office reported that 234 bodies were being held at the main morgue and nine mobile morgues.
Updated

Daniel Andrews to speak at 10.30
Victorian premier Daniel Andrews will provide an update on the rules to be relaxed at 10.30am.
Updated

More on one of the vaccine candidates from Reuters:
Moderna will charge governments between $25 and $37 a dose of its Covid-19 vaccine candidate, depending on the amount ordered, chief executive Stephane Bancel told German weekly Welt am Sonntag (WamS).
"Our vaccine therefore costs about the same as a flu shot, which is between $10 and $50," he was quoted as saying.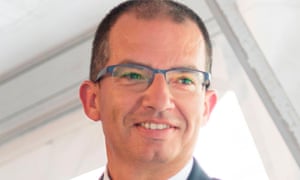 On Monday, an EU official involved in the talks said the European Commission wanted to reach a deal with Moderna to supply millions of doses for a price below $25 a dose.
"Nothing is signed yet, but we're close to a deal with the EU Commission. We want to deliver to Europe and are in constructive talks," Bancel told WamS, adding it was just a "matter of days" until a contract would be ready.
Moderna has said its experimental vaccine is 94.5% effective in preventing Covid, based on interim data from a late-stage clinical trial, becoming the second developer to report results that far exceeded expectations after Pfizer and its partner BioNTech.
Updated

Police have issued 60 fines and 103 cautions to South Australians caught breaching Covid-19 rules despite the state emerging from lockdown without recording any new fresh local virus cases, AAP reports.
They say both business and individuals caught on Thursday and Friday "blatantly disregarded" safety directions, but most people have been "amazing" in doing the right thing over the past few days.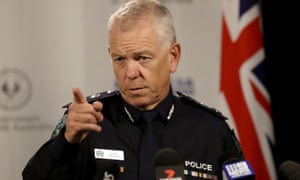 SA's police commissioner Grant Stevens says his investigators are speaking to a pizza shop worker who lied to contact tracers about his whereabouts, sparking the lockdown.
He is believed to be a 36-year-old Spaniard living in Australia on a temporary graduate visa.
Updated

Victorian premier Daniel Andrews is due to announce the further easing of restrictions this morning. The Sunday newspapers suggest restrictions to be eased will include having to wear masks only when indoors and unable to distance, an increase in visitors to the home of 10 people, outdoor gatherings increasing to 50, pubs and restaurants allowed to have up to 100 patrons indoors and 200 outdoors, and gyms allowed to have up to 100 people.
We will know more in a little while.
The New South Wales premier Gladys Berejiklian is also due to give a Covid update at 11am.
Focus will also be on South Australia as the state comes out of its lockdown early after health authorities determined the risk of an outbreak was greatly reduced.
Updated

Good morning
Good morning, and welcome to the Guardian's global coronavirus live blog for Sunday.
I'm Josh Taylor, and I will be bringing you the latest news for the next little while.
Here's the latest:
Portugal is to ban domestic travel and close schools around two upcoming holidays to try to halt the spread of coronavirus ahead of Christmas.
In the UK, 341 more people have died within 28 days of testing positive for Covid-19, bringing the death toll to 54,626.
The number of new coronavirus infections in France rose by 17,881 on Saturday, and there were 276 new deaths reported in hospitals over 24 hours.
Rapid Covid-19 tests were offered to hundreds in Merthyr Tydfil in Wales as part of a pilot scheme of mass coronavirus testing. On Saturday evening, 560 people had attended the testing centre on its first day, with 554 negative tests and six positive recorded.
Russia reported a daily record of 24,822 new coronavirus infections on Saturday, bringing the national tally to 2,064,748. The official death toll is 35,778.
Victoria in Australia has recorded zero new cases and deaths for the 23rd day in a row, with expectations this morning that restrictions will be further eased, including relaxing of mask use.
South Australia on Sunday has come out of its six-day lockdown a few days early after it was determined the risk of an outbreak was greatly reduced.
Updated