"The Dynamic Figures usually feature lots of human figures in quite action-packed poses, racing across the walls of a rock shelter, and they also depict quite a lot of material culture, things like boomerangs, spears and headdresses," he said.
"The Maliwawa Figures are larger, more static, and they feature animals much more commonly, which links to the subsequent X-ray paintings, which are predominantly animals."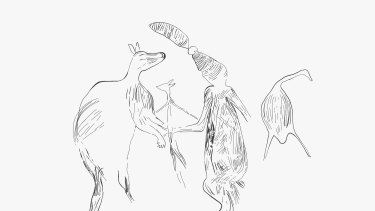 The images found also suggest a culture in the midst of change, both internally and in response to a changing environment.
At the time of the Maliwawa Figures, the last Ice Age was ending and the environment in the Arnhem Land region was transforming from more arid and temperate to tropical.
Some of the art discovered by the researchers included the earliest-known depiction of a dugong, as well as images of bilbies, which would have moved further south as the climate changed.
Professor Taçon said the art also showed the evolution of Indigenous culture in the region, especially one piece that depicted a human figure with the head of a kangaroo.
"What [that artwork] suggests is a story of animals transforming into humans. We see the three stages in that one painting, with a macropod [a kangaroo] on one side, a human figure with an elaborate headdress on the other, and this kangaroo-headed figure between them," he said.
"In Dreaming stories from the region we have stories of exactly that, of transformations from animal to human, in particular involving kangaroos, so art like this could represent the start of culturally significant stories."
Professor Taçon said the findings only scratched the surface of the art that was out there, with numerous sites in the region still not catalogued.
"Every time we go out to survey, not only do we find new sites but we find things that we've never seen before. So there's still lots to do to chart this incredible culture heritage," he said.
Loading
"But it highlights how careful we have to be when we undertake development in these regions, whether that be housing or mining, tourism, agriculture or whatever, because there's still so much cultural heritage that we still don't know about."
The artwork described by the research team was recorded at sites from Awunbarna (the Mount Borradaile area) to the Namunidjbuk clan estate of the Wellington Range.
The findings have been published in the journal Australian Archaeology.
Stuart Layt covers health, science and technology for the Brisbane Times. He was formerly the Queensland political reporter for AAP.