The 200m is my favourite sprint event. The 100m is over too fast. The 400m is painful. The 200m offers just enough distance for a runner to come back from a mistake or lose a commanding lead, yet when they slingshot off the corner, you feel you have never seen humans run this fast.
Capel was the first gone: he flinched in the blocks, expected to be called back, and almost gave up. Boldon, in sunnies, led through the turn. Halfway down the straight, it was a blanket finish, Campbell looking the winner, until Kon surged. He finished like a golfer scoring six straight birdies when everyone else is struggling for par. In a few surreal seconds, a perfect effortless symphony of muscle and rhythm, Kenteris became the Olympian invented by his ancestors.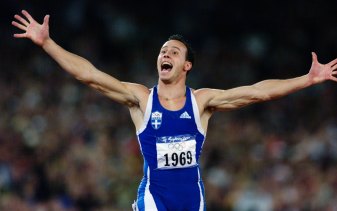 There wasn't much back-story to be gathered before deadline. Kenteris was a physical education teacher who trained with Ekaterini Thanou, who had chased Jones home in the 100m a few nights earlier. His English wasn't great, and trackside he seemed spaced out by his win. He was already talking about Athens 2004.
But Kon would turn out to be a con. He kept his form going for the 2001 world championships but then dropped out of sight. The day before the 2004 Athens Olympics, he and Thanou were accused of staging a motorcycle accident to avoid a doping test. They were rubbed out of their home games, at which they were to take as big a role as Freeman had taken in Sydney.
The pair would later be acquitted of criminal charges that they staged the crash but they were found guilty by the Court of Arbitration for Sport of anti-doping violations over the missed tests and Kenteris never competed again.
Neither was stripped of their Sydney medal, but in punishment for her offence, Thanou was not elevated from silver to gold when Jones, who won five medals in Sydney, was found to be one of the biggest drug cheats of all time. Kenteris kept his gold medal, as he never tested positive.
Loading
What of the memory? The Sydney Games leave complicated feelings. Johnson's last-ever Olympic run, a triumphant final leg in the men's 4x400m relay, was a fraud. The team he anchored was stripped of their medal for drug cheating. Four of the team's six runners – Antonio Pettigrew, Jerome Young, Alvin Harrison and Calvin Harrison – later tested positive or admitted to drug use. Lance Armstrong won a medal in the cycling time trial. Several weightlifters tested positive. Overall, Olympic testers didn't catch up with the druggers for another few games, but all this means is that we know in Sydney there were cheats who got away with it.
So are those memories poisoned? What if other idols – surely nobody was more beloved than Marion Jones – were, in some final judgement day, found to have been drug-assisted? The truth strips them of their medals. What does it do to our memories?
It's one of those things that sports watchers have learnt to hold in suspension: you admire everything about what you have seen, while balancing it against doubt.
Jones's majesty, just like Ben Johnson's in Seoul in 1988, created imagery that is not erased, but recalibrated. Everything becomes conditional: Jones's Sydney magnificence is tainted of course; yet was she the only one, or just the only one who got caught?
With Kenteris, the play of memory is complicated by the fact that he never delivered a positive swab, even if commonsense throws up doubt. Did he enjoy an unfair advantage? Only if you assume no athlete in that race was using drugs. We just don't know. All the supposed pleasure of sports – the clear confirmation of ascendancy, the classification of human endeavour into gold, silver, bronze and other – is taken away.
This is the legacy of drug cheating in Olympic sports. It has concrete consequences for those involved, while for those of us watching, it compromises the images we hold in our mind's eye. What did we end up knowing of Kon? One thing for sure: in 20.09 seconds, one unheralded Greek burst from nowhere to the top of the world. We will never know whether he only broke the mould because he was on the juice.
Malcolm Knox is a journalist, author and columnist for The Sydney Morning Herald.
Malcolm Knox is a journalist, author and columnist for The Sydney Morning Herald.